ActiveWords Installed on the Remote Host is Supported.
 
This configuration is preferred as all ActiveWord Actions can be triggered from the local keyboard and carried out in the remote session; including substitutions, opening URLs, files, folders and programs, as well as executing scripts.
ActiveWords Installed on the Local Machine Only.
ActiveWord text and content substitutions delivered from the local computer to a remote session window are supported subject to clipboard security settings (see your network administrator and Citrix references below). The local executable supporting your remote session should not be in the "Auto Disable" list in ActiveWord Options. All non-substitution Actions triggered locally will be executed locally (Open URL, etc.). Note that Microsoft Remote Desktop Connection (mstsc.exe) is supported in this configuration, but Windows 10 Remote Desktop App is not supported in this configuration.
Managing ActiveWords Installed on Both the Local Computer and Remote Host.
A local installation of ActiveWords may conflict with ActiveWords installed on a remote host. Several common remote access programs are listed by default in the Auto Disable tab of the Options dialog so that the local instance of ActiveWords will be ignored when a remote access window is active (avoiding any conflicts with the remote ActiveWords installation).
 
atmgr.exe - Cisco WebEx Client
g2mui.exe - Go2Meeting Client
mstsc.exe - Windows Remote Desktop Connection executable
RdClient.Windows.exe - Windows 10 Remote Desktop Universal App
TeamViewer.exe - TeamViewer
wfica32.exe - Citrix ICA Client
 
When ActiveWords is not installed on the remote host, the local remote host executable supporting the remote session should be removed from the above list to enable ActiveWord substitutions to the remote host.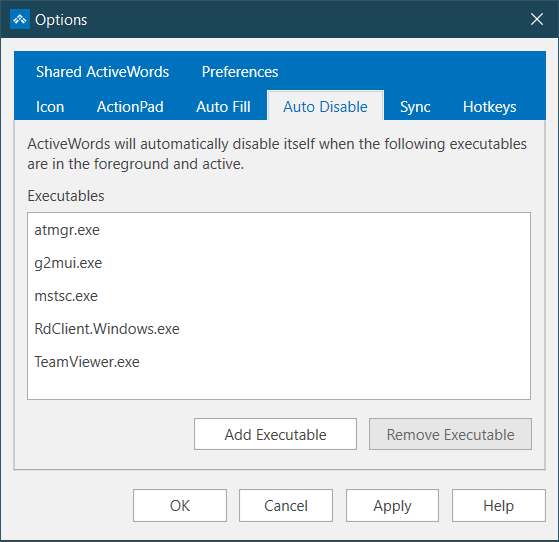 CITRIX Technical References:
CITRIX Copy Paste Settings
CITRIX Adaptive Transport Settings